Set design is one of the most immersive parts of any show, and its design (or lack thereof) is often both the first and last impressions a production can have on its audience. It can seem like magic, as though fairy dust has been sprinkled and suddenly you're no longer sitting in your seat on Broadway or the West End or even a high school auditorium. Instead, you've been transported to Romeo and Juliet's Verona, Alexander Hamilton's 1776, or Peter Pan's Neverland.
Oli Cooper, a project draughtsman for London's National Theatre, is the guy whose job it is to make sure you get there.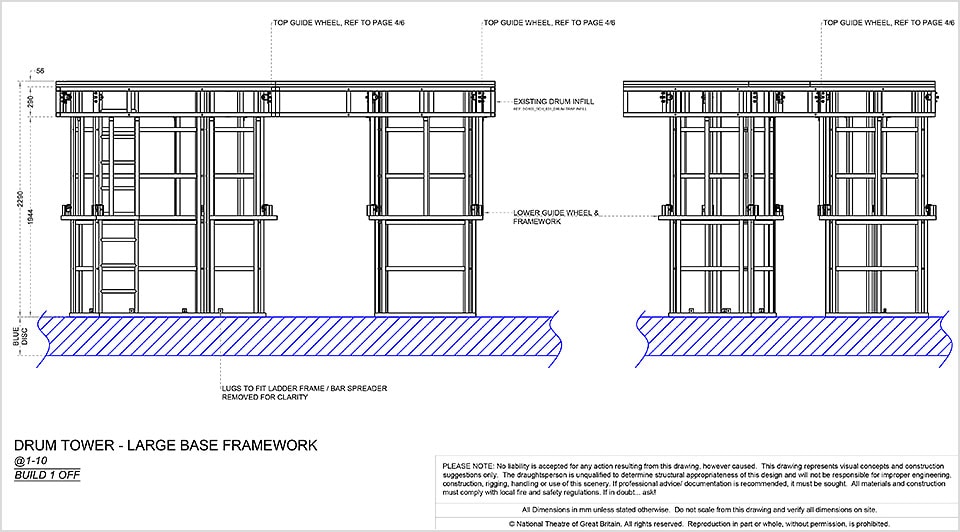 AutoCAD drawing of large base framework for a drum tower. Courtesy of Oli Cooper.
"I take 1/25 scale models that designers have produced, or even just design concepts, and turn them into full design drawings, where they can edit and update their design based on budget, functionality, and material economy," he explains. "Then, from that, I take it to what we call a bench drawing, where we actually manufacture the piece in a carpentry or metal workshop for the stage. Alongside that, I also produce ground plans—what are essentially the architect's drawings—of the theater with all these elements in and see how they coordinate together, essentially choreographing their dance around the stage."
It doesn't end there. Cooper has to consider what happens to these sets when the curtain closes for the last time: "I have to plan for their initial storage and then even to the end of the show where it'll be stored or possibly transported and destroyed."
CAD software plays the lead role
For Cooper, who's worked on plenty of high-profile productions in his five years at the National Theatre, there's one thing he can count on being the same with every show: his software.
"Everyone I've spoken to uses AutoCAD, and I can see why," he says. "The processes that we use in theater, and the speed of change, AutoCAD just enables us to really keep up with the process unlike any other program. It allows us to be accurate in what we're producing but also organic, which is a really hard balance to find."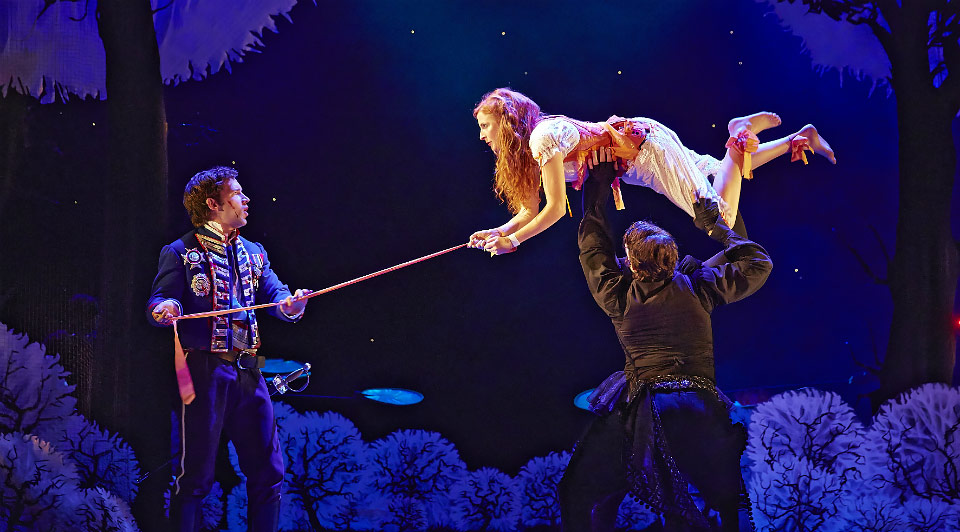 The Light Princess. Courtesy of Brinkhoff Mögenburg.
And while the software is a constant, the shows couldn't be more different. When working on The Light Princess, he had to account for a lead actress who'd spend much of her time in the spotlight airborne. Ark-ive required a freestanding ark outside the theater, which The Guardian described as "a grey clinker-built boat [that] has been beached: constructed from recycled scenery and riverside salvage, it's about 17 meters long and has a 10-meter-high mast."
And then there's the Olivier Award–nominated production of Peter Pan. There were no plush bedrooms and pirate ships here, with Neverland having the look of a rusted-out warehouse secretly taken over by children, where the wires show and everything has the feel of dressing up in grandma's attic—if grandma lived in an abandoned shipyard.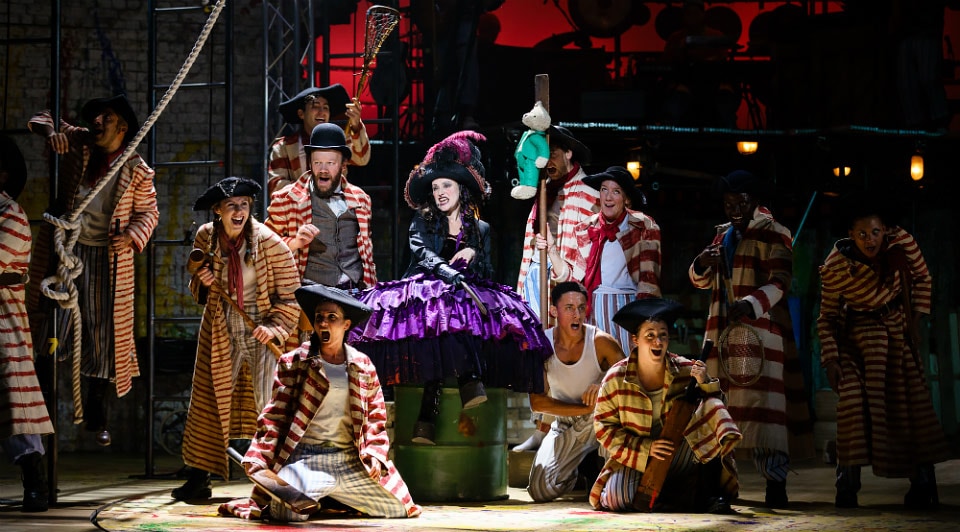 Captain Hook (Anna Francolini) and the pirates in Peter Pan. Courtesy of Steve Tanner.
Despite that ragtag feel, it's precision work behind the scenes. "Because of the quality and the standard to which the paperwork is expected, I don't think there'll ever be a shift for me, personally, from AutoCAD," Cooper says. "With the add-ins that have been added recently, there's a lot of inventive stuff that's come across to AutoCAD from other programs; you know, it's all those little features that keep getting added, so it becomes the better general tool—and yet, it's still a more specific tool than any other one that I've found and used."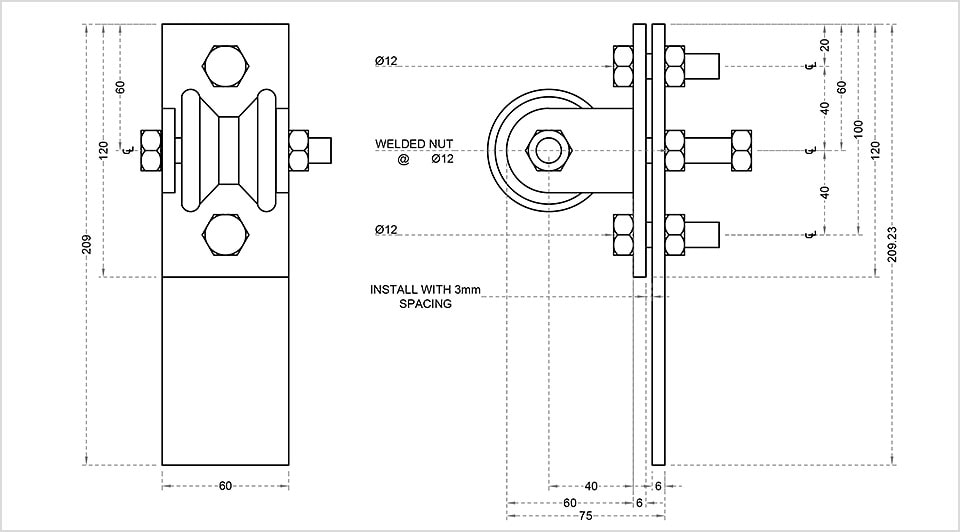 AutoCAD drawing of wheel for set design. Courtesy of Oli Cooper.
With AutoCAD as his foundation, Cooper and his peers are starting to branch out a bit, adding in other Autodesk programs such as 3ds Max to test sightlines. It's a fascinatingly complex process, one that considers a huge number of variables for each individual piece of the set.
While every live show is a different experience and a unique moment in time, the actors creating that experience rely on the right set piece appearing in the right place at the right time. One that had better not break, wear out, or move inappropriately. They can thank Cooper for making that possible.
"The processes that we use in theater, and the speed of change, AutoCAD just enables us to really keep up with the process unlike any other program. It allows us to be accurate in what we're producing but also organic, which is a really hard balance to find."